Do you find yourself spending extra time looking for items? Need more space for storage? Check out these tips.
Cleaning out your kitchen cabinets can be done in less than a day and will pay off quickly. Follow these tips to be on your path to organization!
Why spend the extra time to organize them?
Not only does an unorganized kitchen cost you time; it costs you money! Think about all the times that you had to throw something out because it expired or when you had to go buy another can opener because yours went missing. By assigning a spot for every item and keeping only the necessities you will cut down on waste.
Go through what you own
Throw away Tupperware without a lid, the food that is expired, a couple of the 10 spatulas you own, broken items, etc. These are items that you do not need and are keeping you from being able to see the items you do need. If your extra items are in good shape, consider selling them online or in a garage sale.
Only buy the food you need
Apps like Epicurious allow you to type in a few main ingredients and it will pull up a recipe for you. Plan out dinners for the week ahead and only buy those and essentials at the store. This will reduce waste (helping your checkbook and the planet) and save you space. Organize and rotate your pantry so that food does not go to waste.
Group like objects together
Divide spices, baking items, pots and pans, etc. into categories. Keep these items together so that they are easier to find.
Designate a bin or container for loose items
Reduce the number of random items in your cupboards. Put snacks, kitchen essentials (flour, sugar, pancake mix), utensils, baggies, etc in clear, alike containers. These will fit better together in your cupboards and allow you to see exactly what is in them. Having mismatched boxes that come from the store looks messy and leaves you playing a game of Tetris when putting groceries away. For things like pancake mix that have the recipe on the back, cut out the recipe and tape it to the container.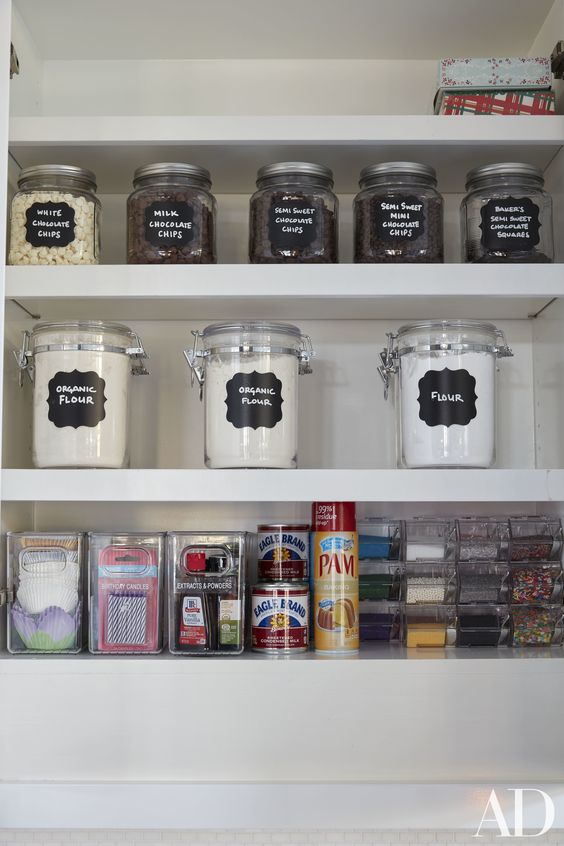 Picture Credit: http://www.architecturaldigest.com/gallery/kourtney-khloe-kardashian-house-tour#21
Label your bins and containers
Once you put your items in containers, label them. Washi tape works great for this because the tape peels right off and there are cute designs to add personality. Write with permanent marker on the tape and stick to the side of the containers. Have the label facing out so that you can see it clearly when you open the door.
Washi tape is sold at most convenience stores or craft stores.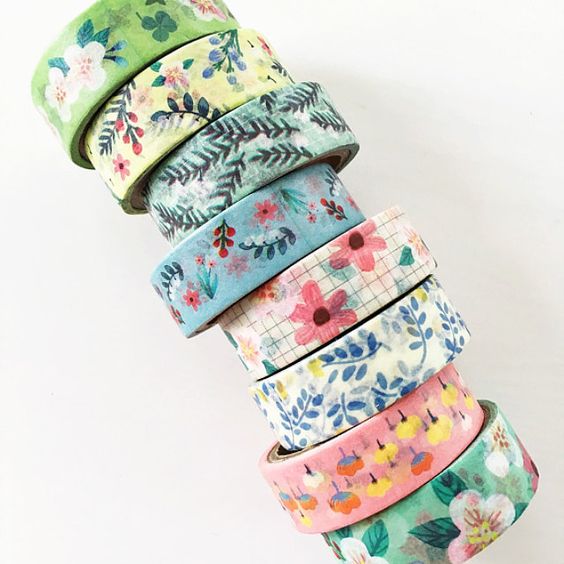 Picture Credit: https://www.etsy.com/shop/PapergeekCo?ref=hdr_shop_menu
Hang things on the doors of cupboards
3M hooks work great for hanging things on the inside of cabinet doors. Measuring spoons, cups, or pot holders will be easier to find and they won't take up as much space.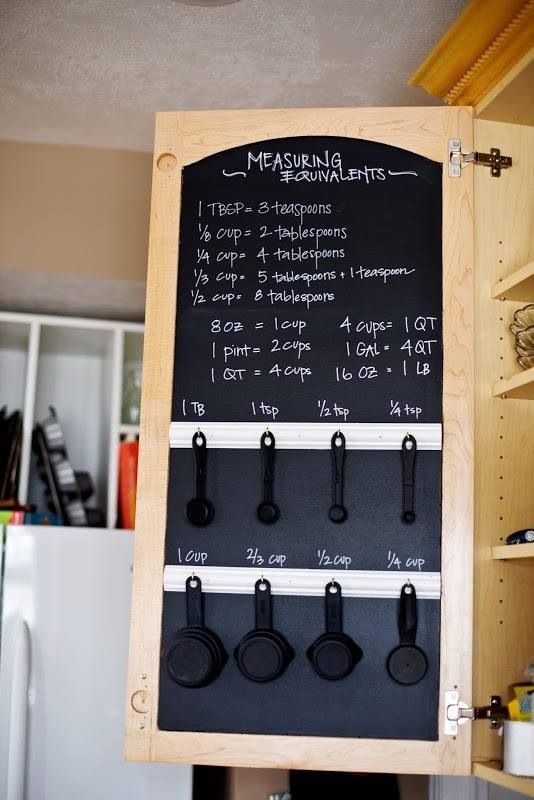 Picture Credit: https://www.buzzfeed.com/peggy/most-useful-ways-to-use-chalkboard-paint
Use drawer dividers
It will be easier to keep similar items together if there are dividers in your drawers keeping the apart. They sell many different choices at department stores or you can make your own with small pieces of wood or plastic.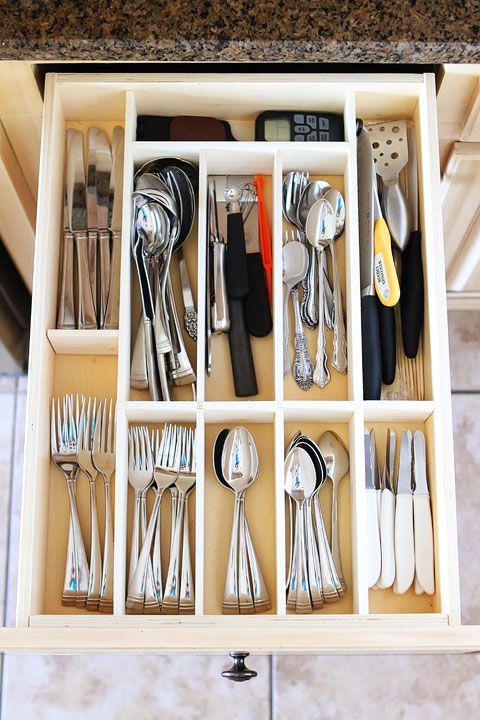 Picture Credit: http://www.kevinandamanda.com/diy-kitchen-utensil-drawer-organizer-easy-and-cheap/
Place items in cupboards near the location they would be used
Having pots and pans near the stove and cleaning items near the sink will make your life a lot easier. It is also good to put the most frequently used items in easier to grab spots. For example, store your everyday dishes near eye level and your special occasion dishes in the hard to reach areas.
Store spices in like containers
Small mason jars or repurposed baby food jars work great for holding spices. Label these containers with washi tape and store them on a lazy susan or hanging from a magnetic surface. The lids of both of these solutions are magnetic so you can buy a piece of steel and hang it on the inside of the cabinet door or use the side of your refrigerator.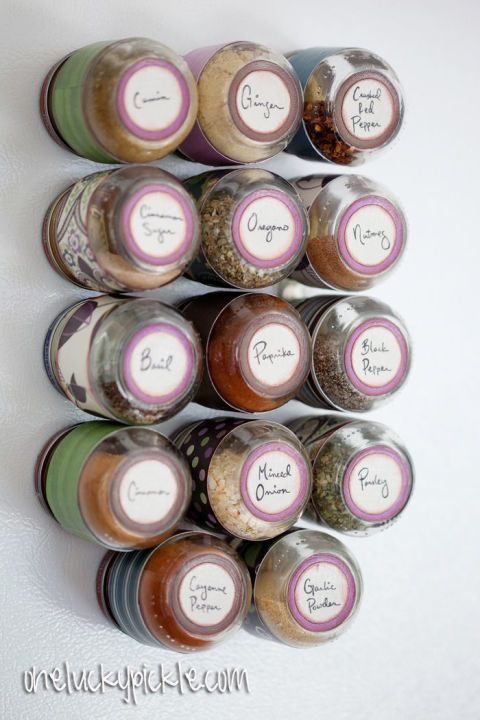 Use pan dividers
Pans take up much less space and are easier to find if they are standing up. Find a pan divider at your local department store. Look for coupons before you go to keep the price lower!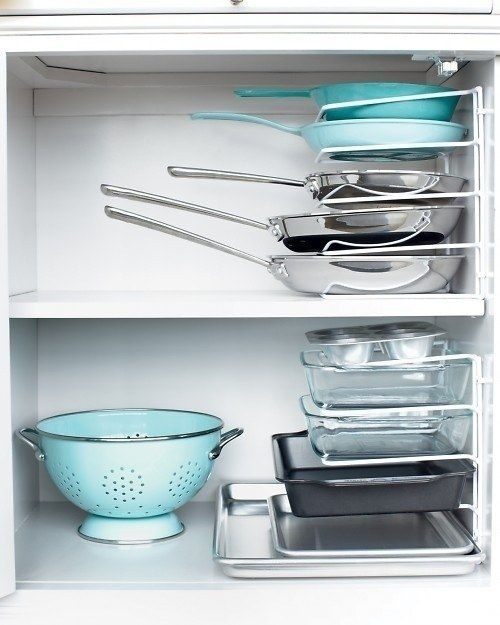 Picture Credit: http://www.architecturendesign.net/insanely-clever-ways-to-organize-your-tiny-kitchen/
Install slide out shelving
Slide out shelving makes it easier to grab things from cabinets that are deep or lower to the ground. It allows you to use the entire cabinet space without having the pull the front items out every time you need to grab the items in the back.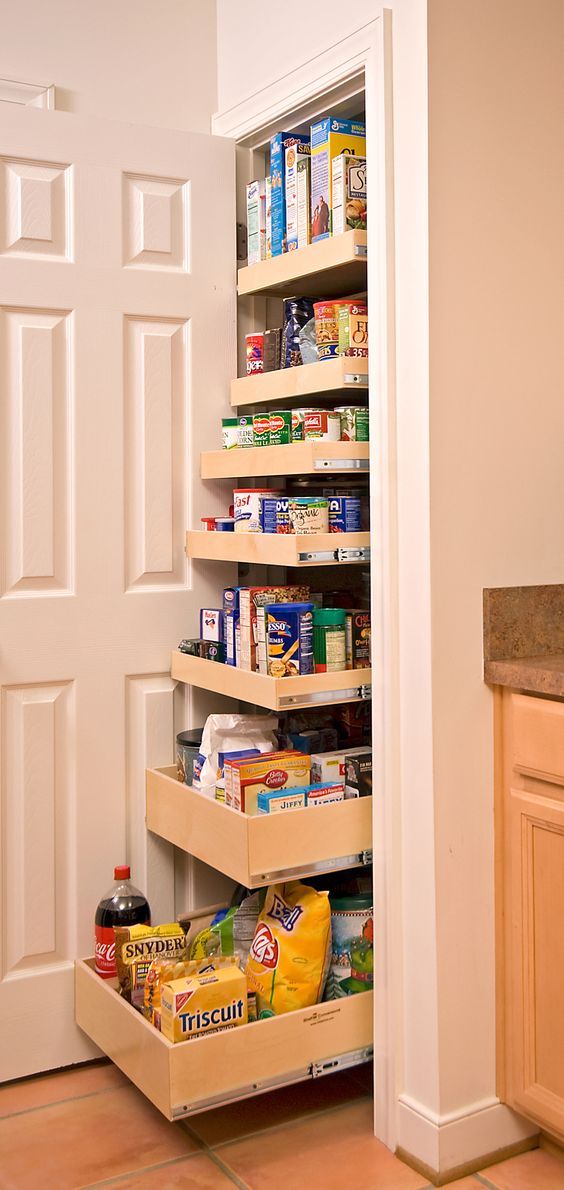 Picture Credit: http://www.icreativeideas.com/40-organization-and-storage-hacks-for-small-kitchens/
Hang items under cabinets
Hanging hooks from underneath your cabinets or in high areas for pots or utensils will save you cupboard space. They can make great decorations if you buy trendy colored cookware.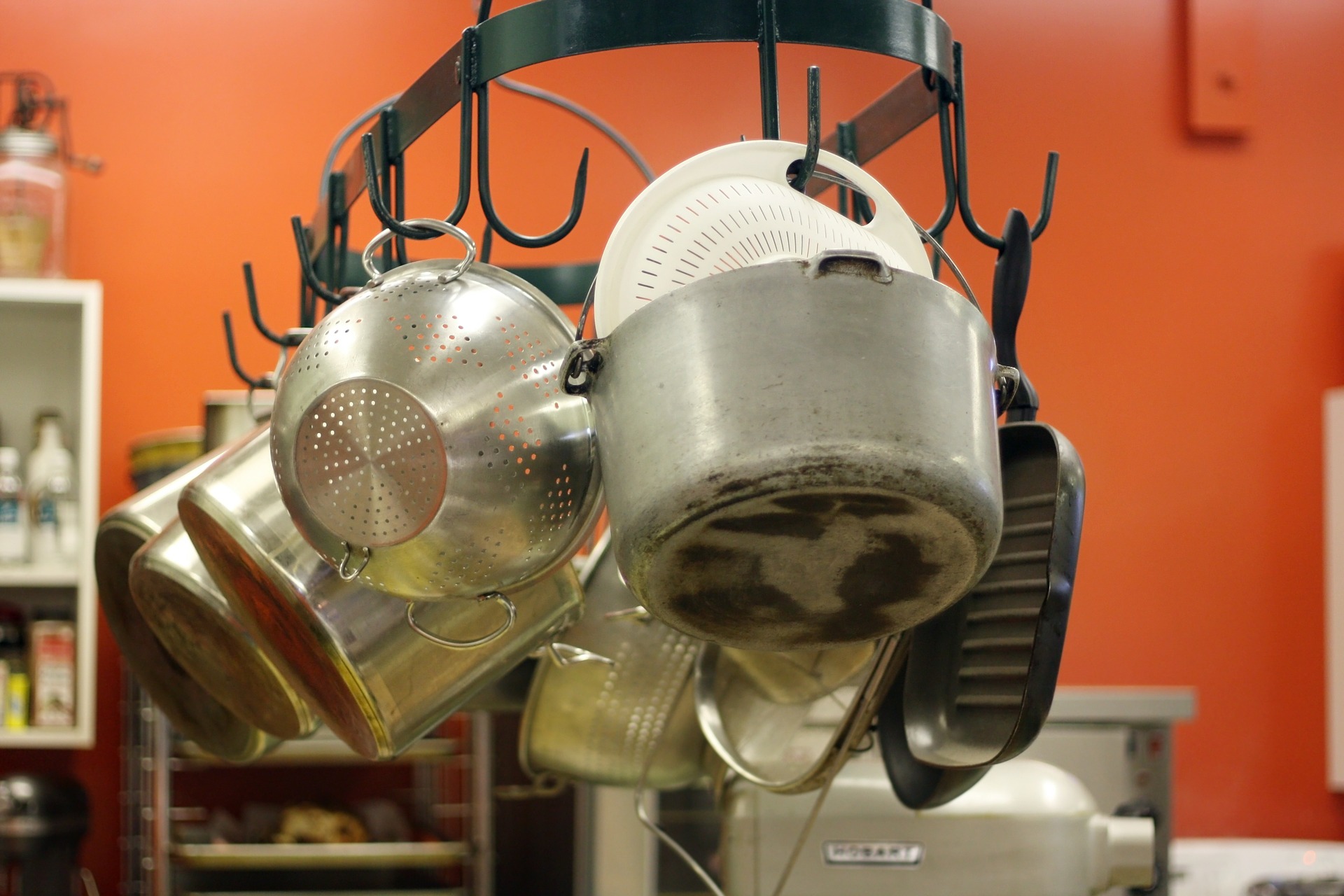 Attach a magnetic strip to hold sharp knives
If you don't have a block for your knives, use magnetic strips under a cupboard or other small, unused wall spaces. They keep sharp knives organized and in good shape.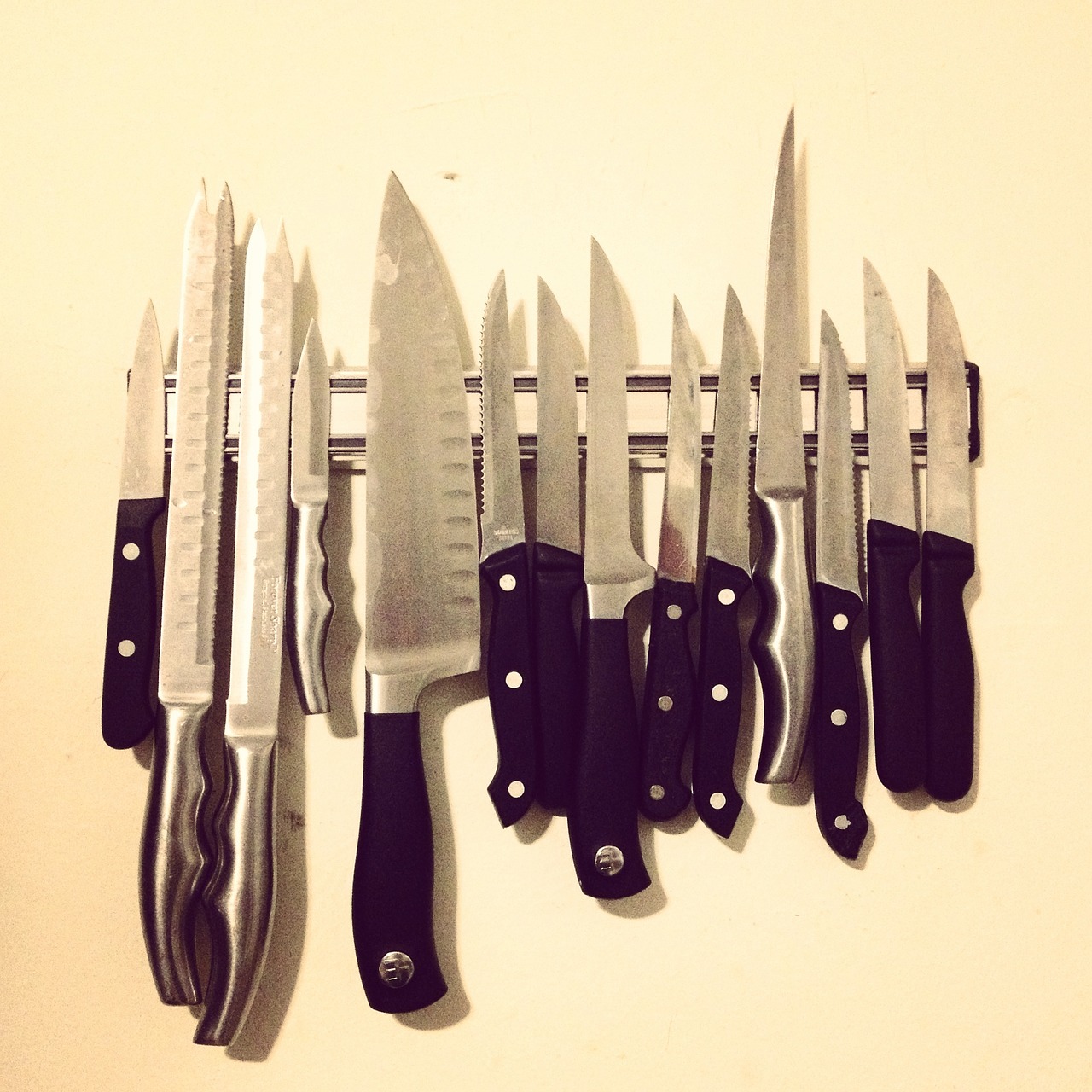 Sort the "junk drawer"
The "junk drawer" is no longer a black hole for things you don't have a spot for. Go through everything you currently store there and throw out what you do not need. Then use a divider to organize what you have left. Every time you are going to put something in the drawer from then on, make sure it has a purpose.
Design a productivity station
Hang a dry-erase board, cork board, and file holder on the refrigerator or wall to keep organized. You can list out your planned meals, grocery lists, to-do lists, and more in one spot.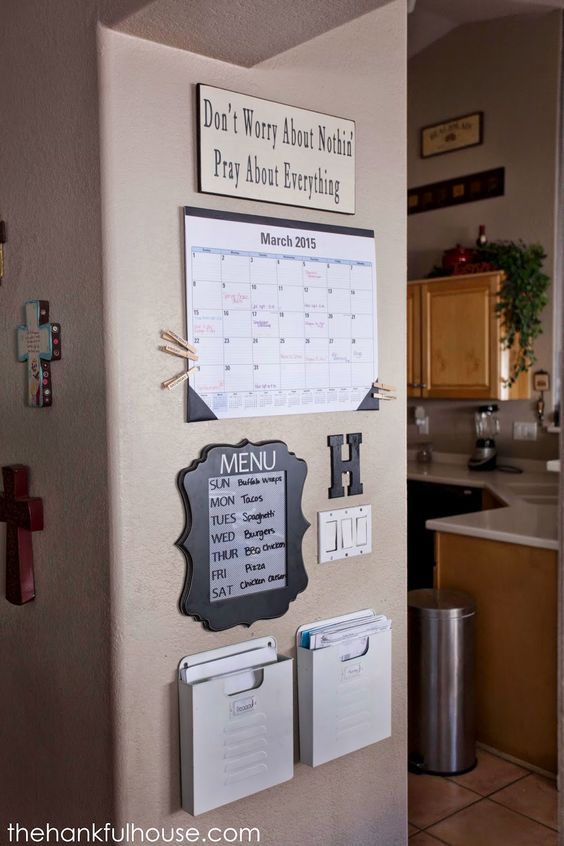 Tell the family
Organizing is one thing, but getting everyone involved is another. Don't let others ruin your hard work. Explain to them the new spots for everything and how much effort it took to get it that way. They'll catch on!

Now that you've worked so hard for results! Keep these tips in mind every time you go shopping or put something away. That way, it will stay spotless and you won't find yourself in the same position a year from now.