A custom bar, the perfect addition to homeowners that love to host and entertain. Create a stunning central hub to catch up and unwind.
Are you thinking about adding a custom bar to your home? The customization process lets you completely design the look and functionality of the bar area. Here are some things you should consider before talking to a local contractor.
Pick the area
The area of the bar is the first part of the bar planning process. You might already have an idea of where you want to put your bar, but there are a few things to consider before you finalize the spot:
How many people would you like to sit at the bar?

Will you have a high top table or other seating in the bar area?

What about bar activities (pool table, arcade games, darts, TV)?

Will you be adding a bathroom or is there a bathroom nearby?

Do you have access to water lines, electricity, and cable TV for the area?

What shape will the bar be?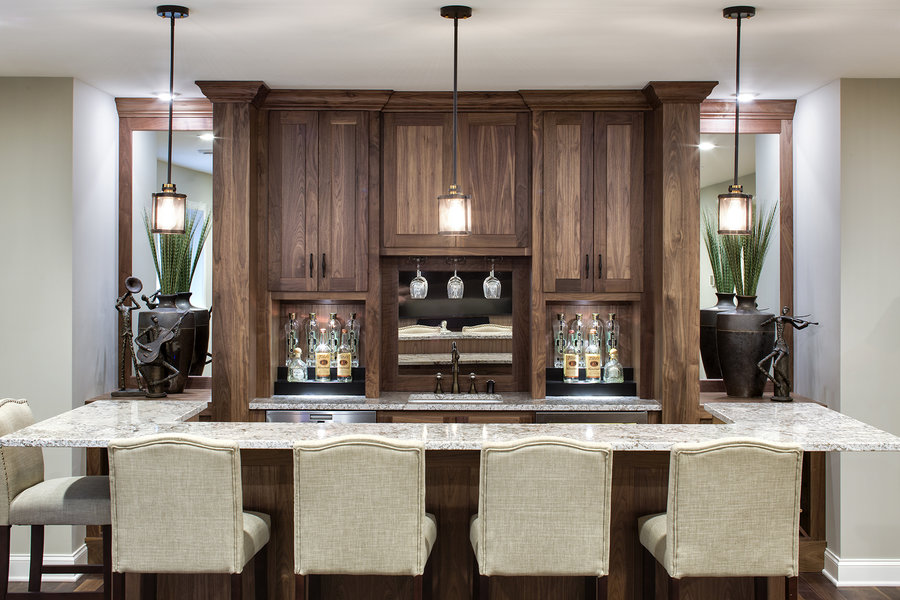 Think about the functionality you want
Have everything you want in your custom bar. Here are a few other functionality options you might want to consider:
Draft beer system if you have a beer lover in the family.

Microwave, pizza ovens, and ovens are fantastic for making snacks.

Dishwasher for easier clean up.

Ice machine if you use a fair amount for drinks.
Consider storage
Custom cabinets are necessary for a custom bar. They allow you to showcase the things you want. Get windows in cabinet doors to show off your collection of spirits. Add lighting under the cabinets so you can see what you are doing.
Glasses

Spirits

Wine

Fridge

Bar accessories

Dishes

Under the bar

TV cable box and stereo system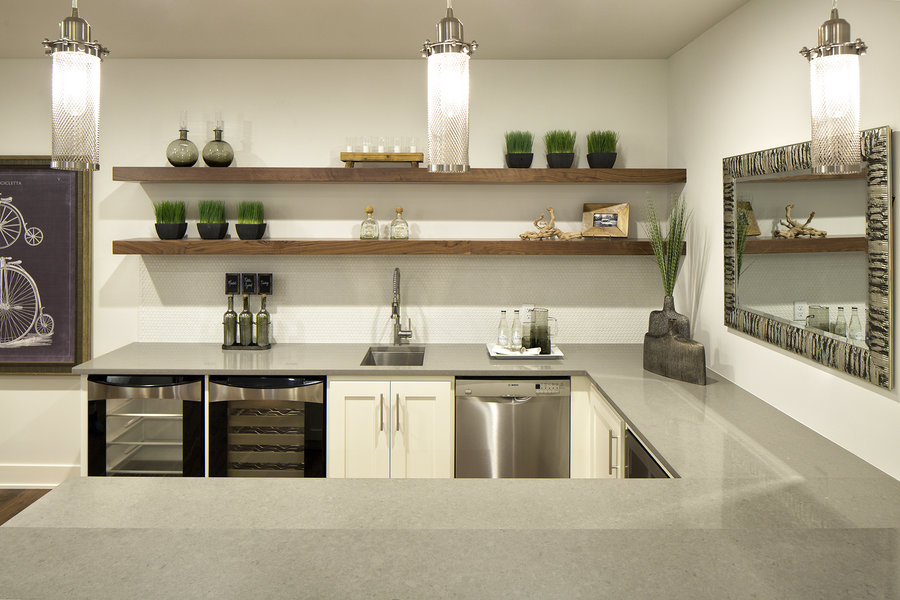 Think about design
There is a lot of design choices that go into a custom bar:
Countertops

The more durable and elegant the better.

Cabinetry

Color, design, handles, shelves.

Wine rack & spots for spirits

A wonderful part about your custom bar is the ability to customize your display.

Lighting for the over the bar

Lights are a focal point of a bar's design.

Bar stools

Plan about 2 ft out per bar stool.

Back wall design

The back of your bar is a large part of your bar's design. Wood, stone, tile, and mirrors, are all lovely options to make the area pop. Don't forget a spot for the TVs too!

Sink

Flooring

We recommend tile or wood for your bar area, carpet is not ideal.

Type of bar

The bar can have two levels, it can be curved into a U-shape, whatever design you want

Footrail

Have a place for your guests to put their feet. If you don't want to have a foot rail on your bar, make sure your guests can rest their feet on the bar stools.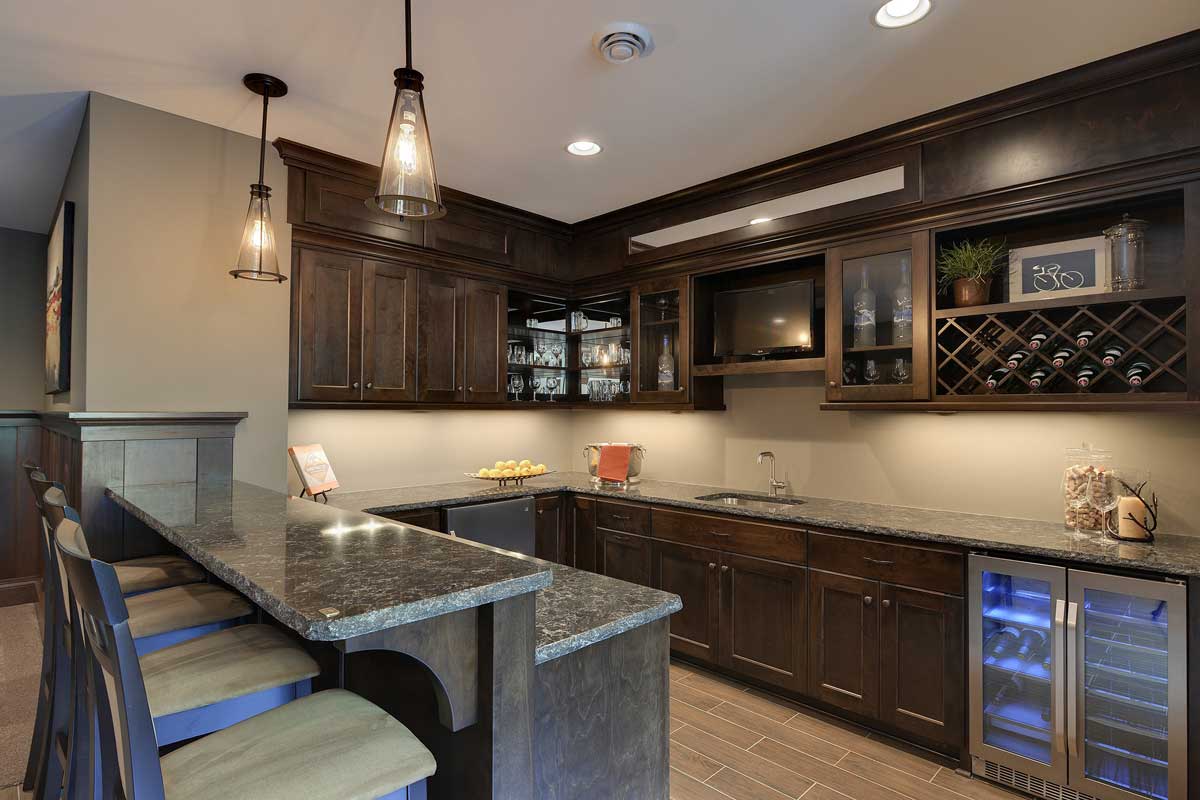 Common bar specifications
The common bar is 42 inches high and 24 inches deep.

Most stools are made 30 inches tall to properly fit this height.

The bar top should be around 16 to 20 inches, and the overhang of the countertop is usually about 8 inches.

The little lip at the end of the bar is meant to catch spilled liquid. You don't need to have this feature if you don't want to.

The lower part of the bar (where the bartender is) is where drinks can be prepared.
If you have any questions about custom bars, feel free to shoot us an email or give us a call. Based in Minnesota, we proudly serve the Twin Cities south metro and surrounding area.